Look Through Our Training Classes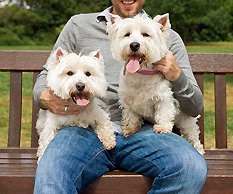 Pee Wee
The Pee Wee course is for puppies up to 14 weeks old. Family members work with their puppy to develop strong life skills while they are young. What puppies learn first they know best. We will work on exercises such as house training, crate training, handling, nipping, etc. This course will aid in confidence building and introduce them to basic obedience skills.
Level One
For dogs 15 weeks and older, this seven week program continues to build your dogs confidence and social skills. The foundation of this training is to develop a great family pet through important obedience skills. The dog learns strong listening skills and response to name, how to walk on a loose leash, how to greet people properly, sit and down stays, how to walk at your side, and to come when called away from distractions. The course also includes a problem solving segment to address any issues that you may be experiencing.
Level Two
The training continues to strengthen the foundation established in Level One. Allowing you to raise your expectations as your dog's skills become stronger. In addition, you will be introduced to such skills as a solid interaction between you and your dog through retrieving drills, jumping drills and verbal control.
Level Three
The enjoyment of training carries forward into Level Three as you challenge your dog's skills. The primary objective is to work towards verbal control which will enable you and your dog to enjoy some great leisure time together. Included with the exercises are verbal control around distractions, jumping drills, retrieving drills and hand signals.
Rally Obedience
Upon completion of the Level Three training, Rally obedience is a fun and exciting way that continues to increase the working relationship between you and your dog using the obedience skills from the training classes. The program will teach you and your dog how to perform the different obedience movements, skills and exercise needed to run through a course. Any dog, purebred or mixed breed can participate and compete in this sport.
Obstacles
So you have completed all three levels of our family dog program and you are ready to sink your teeth into something new like obstacles. Obstacles will teach your dog to have the confidence walking a teeter tooter, jumping through a tire, moving through weave poles and walking over an A-frame. As the confidence increases, the obstacles are sequenced together into courses.

***
Please note that after a couple weeks in class if a dog continues to lack social skills with people or other dogs, they will need to complete their training in a specialized private lesson..